VALLEY VIEW
MIGHTY EAGLE BAND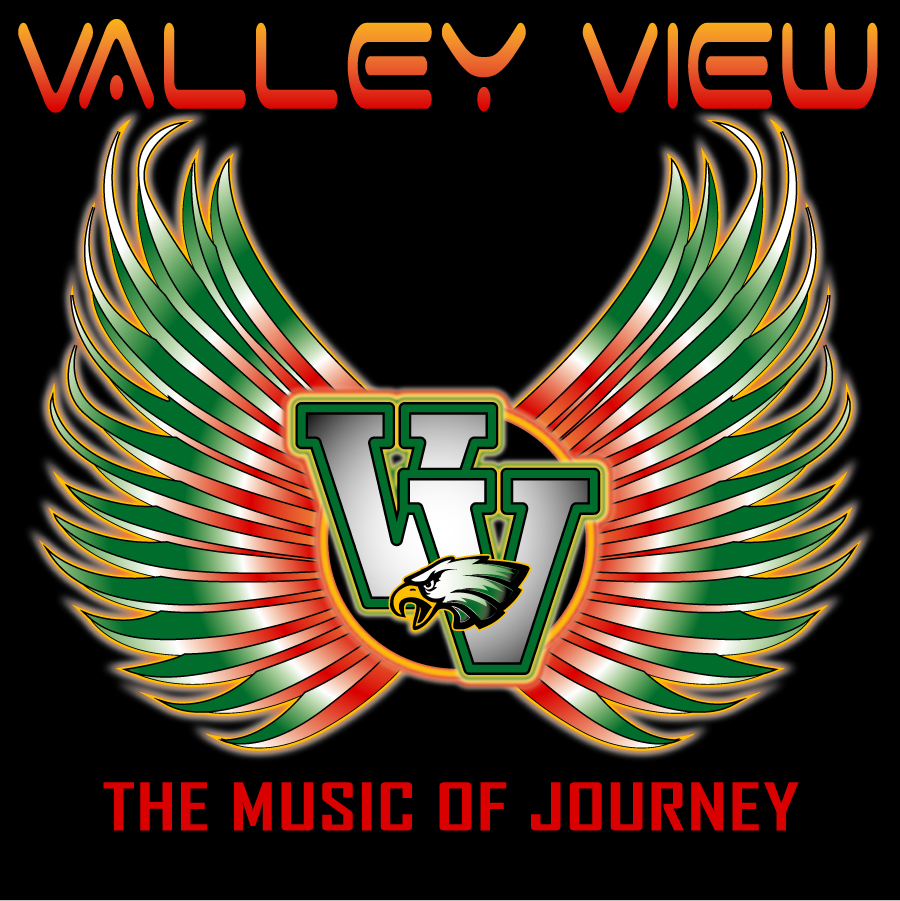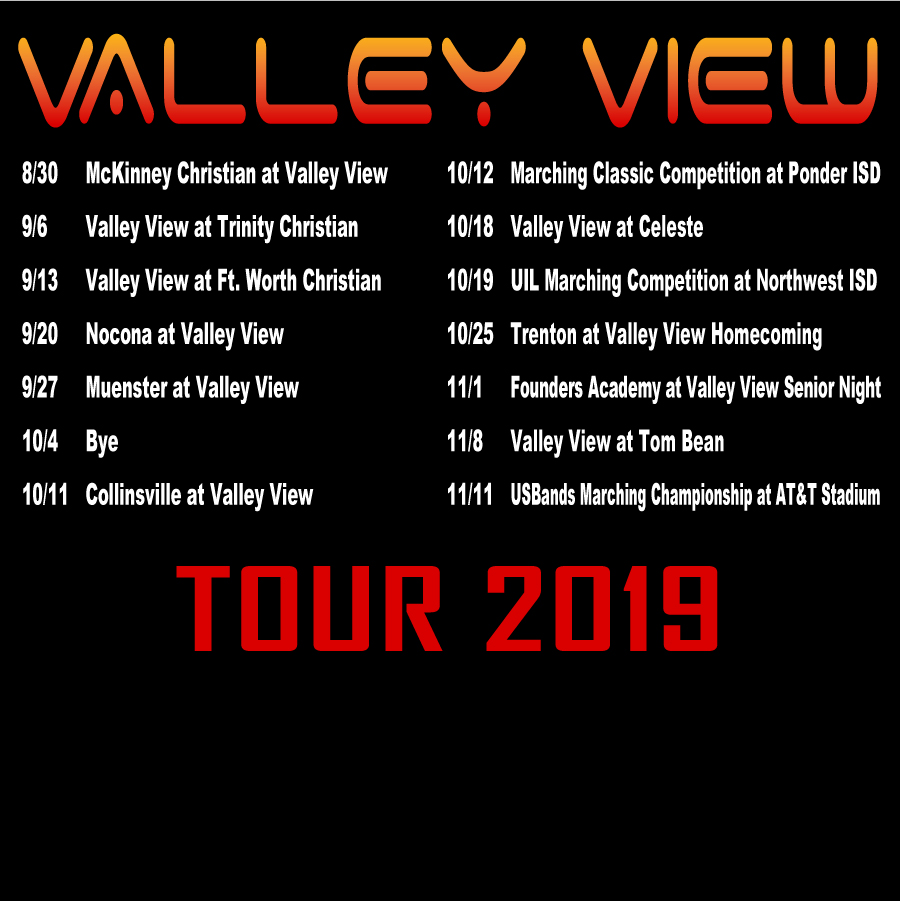 2019 – 2020
| | | |
| --- | --- | --- |
| DRUM MAJOR | SANDY PEDRAZA | SENIOR |
| DRUM MAJOR | ISAAC ROE | SENIOR |
| BRASS SECTION LEADER | THOMAS KILPATRICK | SENIOR |
| BRASS SECTION LEADER | RODOLFO LUCAS | SENIOR |
| BRASS SECTION LEADER | KYLEE THACKER | SENIOR |
| PIT SECTION LEADER | CYDNEY WOLFENBARGER | SENIOR |
| WOODWIND SECTION LEADER | KLEYA BLANKINSHIP | JUNIOR |
| WOODWIND SECTION LEADER | ASHLEY DE LIRA | JUNIOR |
| WOODWIND SECTION LEADER | ANAHI DOMINGUEZ | JUNIOR |
| WOODWIND SECTION LEADER | DANIELA PEDRAZA | JUNIOR |
SEPARATE WAYS – www.jwpepper.com/sheet-music/media-player.jsp?&type=audio&productID=10273903
OPEN ARMS – www.jwpepper.com/sheet-music/media-player.jsp?&type=audio&productID=10087929
DON'T STOP BELIEVIN' – www.jwpepper.com/sheet-music/media-player.jsp?&type=audio&productID=10076160
AT&T Dallas Cowboys Stadium
November 10, 2018
2018 – 2019 DRUM MAJORS
SANDY PEDRAZA and KYLEE THACKER
---
2018 AT&T Cowboys Stadium Pictures:
https://www.teamphotonetwork.com/QPPlus/Proofs.aspx
---
VALLEY VIEW YOUTUBE CHANNEL: https://www.youtube.com/channel/UCsDzXF4MygkuYSRsOw_FlTA
---
2017 PICTURES
http://www.maxpreps.com/photo/thumbnails.aspx?photogalleryid=d0a8996e-9d43-4d86-b593-da93e98e33b7
There is a Band Booster Club facebook page
Go to facebook and search:
"Valley View Band Booster Club"
Feel free to "like" our facebook page and watch for updates.
---
The Bandwagon Music Store and Repair
The Bandwagon Music Store and Repair will be partnering with Valley View ISD this year for all your instrument rental and repair needs. Feel free to visit their website for more information.
www.thebandwagonmusicstore.com
We bring the store and the service to you.
Mobile Music Store & Instrument Repair
The Bandwagon is the original full-service mobile music store. We are housed in a 28' cargo trailer that has been specially modified to contain both a repair shop and a full-service music store. Schools comprise the majority of our clients; we offer the most timely and reasonably priced repairs in the industry. Repairs are done at a rate of $100.00 per hour including parts (pads, springs, screws, corks, and most water keys). We only charge extra for manufacturer-specific parts. Most Bandwagon schools are averaging 40% savings on repairs. With school budgets shrinking, doesn't it make sense to get as much use out of your equipment as possible? And why wait 1, 2, or 3 weeks on most of your repairs?

The Bandwagon also provides customized band and orchestra instrument rental programs, featuring brands that you know and trust.
Phone: (817) 583-0001 Address: 100 E. Felix St. S, Suite 102 Fort Worth, Texas 76115